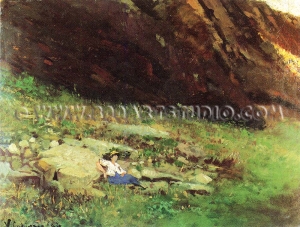 At the end of 1850, a group of young painters in Florence began to get together to oppose the academic approach to their art. They would meet in the Caffè Michelangelo to discuss and keep abreast of new trends. Together they were lucky enough to visit the extensive art collection that Prince Demidoff of Russia kept on his Florence estate, a collection enriched by works by French artists such as Ingres, Corot and Delacroix. The young painters included Telemaco Signorini and Serafino De Tivoli who, with Cristiano Banti and Vincenzo Cabianca, were the first to exhibit a completely modernized language in the Promotrice show for new talent held in Turin.
They were called "Macchiaioli" because they used "spots" of color to accentuate the chiaroscuro. In their paintings they abandoned the idea that "drawing" should precede the application of color: instead, they employed the technique of lining up "spots" of colors and chiaroscuro. The visual effect on the viewer was one of flickering light. Increasingly, the Macchiaioli chose to paint in plein air, an essential prerequisite to studying every single vibration of light. Therefore they moved their easels outdoors: in their studios they certainly were unable to catch the tones of light necessary for their way of painting.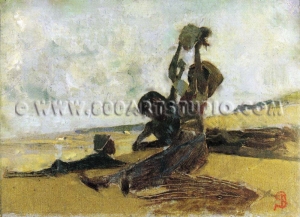 To those already mentioned, we should add the names of Vito D'Ancona, Raffaello Sernesi, Giuseppe Abbati and Odoardo Borrani – whose time spent painting in S. Marcello Pistoiese proved to be very productive – and Giovanni Fattori, the most reclusive of the group but certainly the greatest. Diego Martelli acted as friend, supporter and critical conscience to the Macchiaioli, who frequently stayed at his estate in Castiglioncello between 1861 and 1867. This period became known as that of "the Castiglioncello School" because of the large number of works produced on the Martelli estate, where the Macchiaioli could enjoy total immersion in its splendid natural surroundings. During the same years, the other great personality of this group, Silvestro Lega, was reaching maturity. Lega has left us magnificent pictorial passages from the end of the 1860's when he was based as a painter in Piagentina, a neighborhood on the outskirts of Florence. Giovanni Boldini and Giuseppe de Nittis joined the group at the beginning of the 1870's and would move later to Paris. It is no coincidence that during the same period – in 1874, to be precise – the Impressionists exhibited their works for the first time in Paris in the studio of photographer Felix Nadar.
The group of the Macchiaioli painters is completed by Adriano Cecioni, Nino Costa e Antonio Puccinelli. Some years younger, also Eugenio Cecconi, Niccolò Cannicci and Egisto Ferroni joined the Macchiaioli even if only partly and in a late period of the movement.
Written by : Cecilia Iacopetti – Translated by: Paola Ludovici and Nanette Cooper
© Studio d'Arte dell'800